Small farmers produce 90% of our food from about 9% on the arable land!!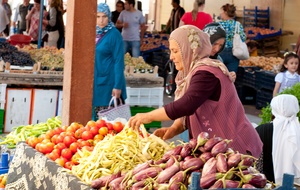 Governments and international agencies frequently boast that small farmers control the largest share of the world's agricultural land. Inaugurating 2014 as the International Year of Family Farming, José Graziano da Silva, Director General of the United Nations Food and Agriculture Organisation (FAO), sang the praises of family farmers but didn't once mention the need for land reform. Instead he stated that family farms already manage most of the world's farmland1 – a whopping 70%, according to his team.2 Another report published by various UN agencies in 2008 concluded that small farms occupy 60% of all arable land worldwide.3 Other studies have come to similar conclusions.4

But if most of the world's farmland is in small farmers' hands, then why are so many of their organisations clamouring for land redistribution and agrarian reform? Because rural peoples' access to land is under attack everywhere. From Honduras to Kenya and from Palestine to the Philippines, people are being dislodged from their farms and villages. Those who resist are being jailed or killed. Widespread agrarian strikes in Colombia, protests by community leaders in Madagascar, nationwide marches by landless folk in India, occupations in Andalusia – the list of actions and struggles goes on and on. The bottom line is that land is becoming more and more concentrated in the hands of the rich and powerful, not that small farmers are doing well.

Rural people don't simply make a living off the land, after all. Their land and territories are the backbone of their identities, their cultural landscape and their source of well-being. Yet land is being taken away from them and concentrated in fewer and fewer hands at an alarming pace.

Then there is the other part of the picture: that concerning food. While it is now increasingly common to hear that small farmers produce the majority of the world's food, even if that is outside of market systems, we are also constantly being fed the message that the "more efficient" industrial food system is needed to feed the world. At the same time, we are told that 80% of the world's hungry people live in rural areas, many of them farmers or landless farmworkers.
Source.
Tim.

Rockhopper




Posts

: 4282


Join date

: 2014-06-13


Age

: 75


Location

: Island Paradise



So many corporate spread myths to get their kind of farming over the older models which can work well, but they rathyer have folks dependent upon their mass distribution systems which if they break down can starve folks 1500 miles away from the food itself is made.
_________________
Warning!: Those who knock on Dragon's doors un-announced may be flame broiled, unless they bear chocolate/wine, or good foods
Once they have tried scales, everything else pales!


Lenzabi

Admin




Posts

: 2325


Join date

: 2014-06-11


Age

: 55


Location

: Earth




Hopefully they leave you alone on your growing fields Rock!

_________________


Rogue




Posts

: 23100


Join date

: 2014-06-12


Location

: Wild West



I have to fend off several attempts to get me to sell my piece of paradise each week Roggie. Got industrial factories all around me now!

Tim.

Rockhopper




Posts

: 4282


Join date

: 2014-06-13


Age

: 75


Location

: Island Paradise




It is also so damn sad to see such fertile soils buried under concrete and steel.

_________________


Rogue




Posts

: 23100


Join date

: 2014-06-12


Location

: Wild West



Indeed it is Roggie. The most productive piece of dirt I had is now a Housing estate and Industrial park. The city has been growing out this way because the ground is harder and there was no liquefaction in this patch.

Tim.

Rockhopper




Posts

: 4282


Join date

: 2014-06-13


Age

: 75


Location

: Island Paradise





Similar topics
---
Permissions in this forum:
You
cannot
reply to topics in this forum