Some new research on why our cuzzie-bros died out.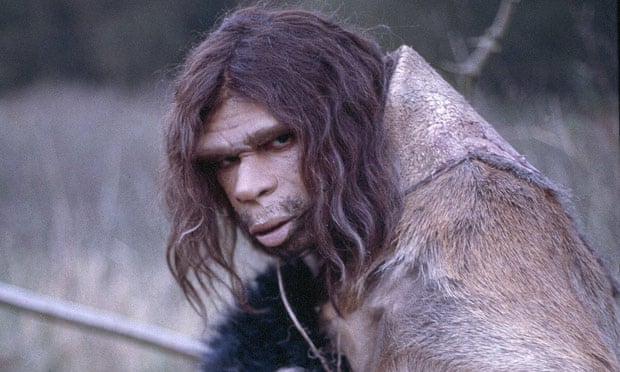 So what did kill off the Neanderthals? Given the speed at which they seem to have disappeared from the planet after modern humans spread out of Africa, it is likely that Homo sapiens played a critical role in their demise. That does not mean we chased them down and killed them – an unlikely scenario given their muscular physiques. However, we may have been more successful at competing for resources, as recent research has suggested.

Eiluned Pearce and Robin Dunbar of Oxford University recently worked with Stringer and compared the skulls of 32 Homo sapiens and 13 Neanderthals, finding the latter had eye sockets that were significantly larger. These larger eyes were an adaptation to the long, dark nights and winters of Europe, they concluded, and would have required much larger visual processing areas in Neanderthal skulls.

By contrast, modern humans, from sunny Africa, had no need for this adaptation and instead they evolved frontal lobes, which are associated with high-level processing. "More of the Neanderthal brain appears to have been dedicated to vision and body control, leaving less brain to deal with other functions like social networking," Pearce told BBC News. 

This point is stressed by Stringer. He said: "Neanderthal brains were as big as modern humans' but the former had bigger bodies. More of their brain cells would have been needed to control these larger bodies, on top of the added bits of cortex needed for their enhanced vision. That means they had less brain power available to them compared with modern humans."

Thus our ancestors possessed a fair bit of enhanced cerebral prowess, even though their brains were no bigger than Neanderthals'. How they used that extra brain power is a little trickier to assess, though most scientists believe it maintained complex, extended social networks. Developing an ability to speak complex language would have been a direct outcome, for example.
Here.
Tim.

Rockhopper




Posts

: 4282


Join date

: 2014-06-13


Age

: 75


Location

: Island Paradise



And thus by interbreeding today we see people who can do amazing physical things and still network/communicate and some who are really good at communications, Today's Human are the result of blending Cro-Mags as they were called and Neanderthal
_________________
Warning!: Those who knock on Dragon's doors un-announced may be flame broiled, unless they bear chocolate/wine, or good foods
Once they have tried scales, everything else pales!


Lenzabi

Admin




Posts

: 2343


Join date

: 2014-06-11


Age

: 56


Location

: Earth



Yep Len. A mongrel dog is stronger and more intelligent than a pedigree! 

Tim.

Rockhopper




Posts

: 4282


Join date

: 2014-06-13


Age

: 75


Location

: Island Paradise



Yes, we did assimilate them, but also:
Why were Neanderthals replaced by anatomically modern humans around 40,000 years ago? One popular hypothesis states that a broader dietary spectrum of modern humans gave them a competitive advantage on Neanderthals. Geochemical analyses of fossil bones seemed to confirm this dietary difference. Indeed, higher amounts of nitrogen heavy isotopes were found in the bones of modern humans compared to those of Neanderthals, suggesting at first that modern humans included fish in their diet while Neanderthals were focused on the meat of terrestrial large game, such as mammoth and bison.

However, these studies did not look at possible isotopic variation of nitrogen isotopes in the food resource themselves. In fact, environmental factors such as aridity can increase the heavy nitrogen isotope amount in plants, leading to higher nitrogen isotopic values in herbivores and their predators even without a change of subsistence strategy. A recent study published in Journal of Human Evolution by researchers from the University of Tübingen (Germany) and the Musée national de Préhistoire in Les Eyzies-de-Tayac (France) revealed that the nitrogen isotopic content of animal bones, both herbivores, such as reindeer, red deer, horse and bison, and carnivores such as wolves, changed dramatically at the time of first occurrence of modern humans in southwestern France.

The changes are very similar to those seen in human fossils during the same period, showing that there was not necessarily a change in diet between Neanderthals and modern humans, but rather a change in environment that was responsible for a different isotopic signature of the same food resources.
Moreover, this isotopic event coinciding in timing with the replacement of Neanderthals by modern humans may indicate that environmental changes, such as an increase of aridity, could have helped modern humans to overcome the Neanderthals.

These new results, together with recently published research showing that Neanderthals had more skills and exploited more diverse food resources than previously thought, makes the biological differences between these two types of prehistoric humans always smaller. In this context, the exact circumstances of the extinction of Neanderthals by modern humans remain unclear and they are probably more complex than just a behavioral superiority of one type of humans compared to the other.


From here: http://www.sciencedaily.com/releases/2014/03/140317084643.htm

Agartha

Admin




Posts

: 16664


Join date

: 2014-06-10


Location

: Behind you.




Monk (in hiding)




Posts

: 1993


Join date

: 2014-06-15



Like I have said, many of my body traits reflect Neanderthalic ones.

Short powerfully muscled legs for standing ground and quick sprints, or long slow runs,marches.

Great heat retention in a barrel ribcage (sucks for me in the heat), good upper body strength, thick (doctor commented on the sturdiness of these bones)Bones that have never been broken, except a young clavicle fracture and joint damage.

low light vision

and a thick fore skull which helped in ball games and a couple of tussles in my youth.

Modern aspects means no large brow ridge, nose is slimmer.
_________________
Warning!: Those who knock on Dragon's doors un-announced may be flame broiled, unless they bear chocolate/wine, or good foods
Once they have tried scales, everything else pales!


Lenzabi

Admin




Posts

: 2343


Join date

: 2014-06-11


Age

: 56


Location

: Earth




---
Permissions in this forum:
You
cannot
reply to topics in this forum